About InSpiritry
Breathe --> InSpire --> InSpirit --> In Spirit Try --> InSpirit-ry -->InSpiritry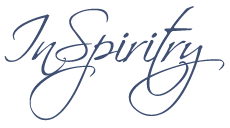 What is
InSpiritry?
InSpiritry is the research-based personal practice of creating an InSpirational life!
In 2003, as a young woman with big ideas, Anne McCrady coined the word, InSpiritry. Having triumphed over life-theatening asthma and with a passion to make the world a better place, Anne recognized people are happiest and most productive when they can use their own everyday, remarkable lives to InSpire others. What she also knew was that people need to be reminded how InSpiring they are!
Within months, she founded her innovative company by the same name and began the journey that continues today. Built on Anne's success as a motivational speaker, award-winning poet, science enthusiast, social justice advocate, professional storyteller and civic leader, InSpiritry has become Anne's personal way of Putting Words to Work for a Better World. With concepts like Good-to-Greater-Good, Wider Lens-Open Mind-Gentle Heart and Rekindling-the-Spirit as early mantras, InSpiritry has transformed individuals, organizations and communities.
InSpiritry is based on what Anne calls her 7 C's:
Community - connecting to self, nature, God & humanity
Compassion – having an open heart for others
Creativity – seeking new ways and new ideas
Collaboration – using the synergy of diverse voices
Consilience – embracing the connectedness of all knowledge
Courage – acting with values-based strength of character
Celebration - living with a sense of gratitude, optimism and joy
InSpiritry has now become synonymous with Ideas for InSpired Living, resulting in empowered individuals, mission-reminded organizations, vibrant community efforts, celebrations of peace, acts of creative expression, STEAM education programs, strong families, spiritual exploration and progressive social change.
To connect with InSpiritry audiences, Anne posts a daily InSpiritry Question for the Day, episodes of A Minute of InSpiritry on SoundCloud, weekly news-related poetry posts at Poet with a Press Pass and motivational posts on social media, along with her frequent speaking appearances. Those interested can friend her on FaceBook, Twitter and LinkedIn to receive notices of her postings. As an outreach, InSpiritry also sponsors Art of Peace - Tyler and Northeast Poetry in Schools, aong with other peace, literary and progressive community events.
With Anne McCrady as its voice, InSpiritry community efforts, compelling interactions, personal narrative and creative expression to demonstrate that Every Moment is Poetic and Every Life Is An InSpirational Story!
The Personal Practice of InSpiritry
Open your mind - Keep it open
Soften your heart - Feel deeply
Connect with others - Reach out
Explore the world - Be curious
Follow your passions - Make a difference
Express yourself - Be creative
Welcome change - Celebrate growth
Ask for help - Offer it too
Tell your stories - Share your wisdom
Listen intentionally - Be a healer
Learn new things - Find understanding
Trust love - Trust people
Speak peace - Bring people together
Celebrate your life - Practice gratitude
How InSpiritry Can Transform Your World
You Become a Source of Strength and Joy for Others
People Are InSpired to Believe in Their Own Heroic Lives
Working with Others Who are Different Becomes Natural
Positive Changes Happen in Families & Organizations
New Community Connections Lead to Exciting Collaborations
Staff Members, Volunteers and Clients are Energized
Stakeholders Recognize & Share Their Amazing Stories
Support for the Greater Good Increases
Social Justice and Peace are Personal Missions
Spiritual Experiences Become Everyday Occurrences
Schools Use STEAM Educational Enrichment
Arts Events and Artists are Enlivened
Science is the Basis for Decision-making
Literary Events Feature InSpirational Writing
Communities Celebrate Their Heritage & Culture
Families and Organizations Appreciate Their History
Children Believe, Belong and Become
Everyone Begins to See Their Lives as InSpirational
Learn More about Anne McCrady and InSpiritry!
Click here to contact Anne McCrady's about booking one of her transformative InSpiritry programs!