Anne McCrady - Poet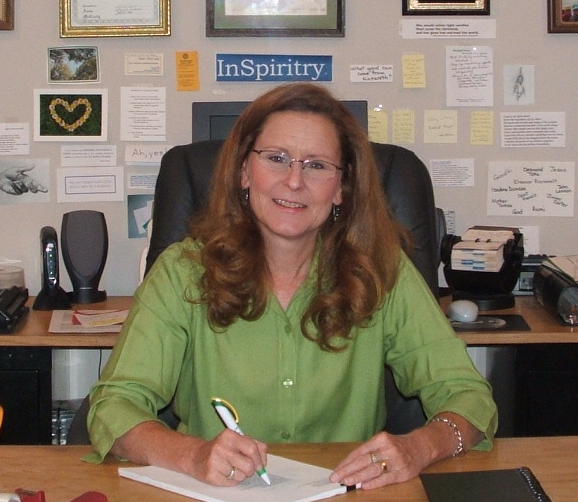 "Every Moment is Poetic!"
Anne McCrady began her fascination with language early, reciting nursery rhymes as a toddler, before writing poetry and stories as an adolescent while home sick with asthma. As a teenager and later an adult, Anne continued to develop her writing as she pursued an education in science and an interest in social justice. Today, Anne is an award-winning poet, frequent poetry workshop presenter, peace proponent and an advocate for arts and science integration in education, even as she expands her poetry writing to new genres such as creative nonfiction, poetic commentary, editing, blogging, online audio, libretto and artsong.
In the past twenty years, Anne's heartwarming stories, poems, essays and devotionals have been published in literary print and electronic journals, including: Borderlands-Texas Poetry Review, Concho River Review, Red River Review, High Grade, Lilliput Review, Devo'Zine, Entre Nous, The Midwest Poetry Review, RE:AL, Mediphors, Encore, Sweet Annie and Sweet Pea Review, Aries, Di-verse-city, Poetry.com, The Touchstone, Suddenly, Blue Hole, James River Review, Windhover, The Enigmatist, Blue Hole, English in Texas, New Texas, Texas Review, Texas Poetry Calendar, English in Texas, Texas Observer, County Line, Pineywoods Live and Voices Israel.
In addition, Anne's poems has been widely anthologized, appearing in over thirty American and international anthologies such as: Essential Love, The Freedom Anthology, My Heart's First Steps, MotherWords, The Book of Hopes and Dreams, Miracles of Motherhood, Dog Blessings, Big Land, Big Sky, Big Hair, Suddenly, Agave, Improbable Worlds, From Under the Bridges of America, GRITS - Girls Raised in the South, Wine, Cheese & Chocolate, Out of the Depths - Poetry of Poverty, Her Texas and Bearing the Mask - Southwestern Persona Poems. Though varied in subject matter, Anne's work most often examines the challenges, blessings and transformations of living with an open heart. Her stories and creative non-fiction appear in Cup of Comfort for a Better World, Cup of Comfort for Single Mothers and Christmas Traditions.
Anne also posts news-related on her blog, Poet with a Press Pass, which features real-time, original poems written in response to world events. Each post includes news links as well as an audio reading of the week's poem. Past topics include current events, technological advances, international politics and social justice issues. Audio of Poet with a Press Pass poems can also be accessed on SoundCloud.
Anne's poetry books have garnered honors. Dozens of her poems have won regional and national contests. Her Texas-inspired poetry collection, Along Greathouse Road, was the 2003 winner of the PST Edwin M. Eakin Book Publication Award sponsored by the Poetry Society of Texas. It was printed in 2004 by Eakin Press and is now available as a double CD audiobook produced by InSpiritry. Her peace manuscript, Under a Blameless Moon, won the Pudding House Chapbook Contest, a national competition that included a cash prize and publication in 2008. Anne's most recent poetry collection, Letting Myself In, published by Dos Gatos Press in 2013, has received wide acclaim.
She has earned the top poetry prize of the Poetry Society of Texas, the Therese Lindsey Award, as well as the coveted Founders Award offered by the National Federation of State Poetry Societies. In 2011, her poem, "Directions to Peace," won the Burning Bush Poetry Prize for peace poetry. Her ekphrastic poem, "Illusion," was selected for an exhibit at the Museum of Fine Art - Houston. Most recently, Anne's poem, "All That Light," won first prize in the Texas Night Sky Festival contest in Dripping Spring, Texas, an International Dark Sky Community. She is also a two-time Pushcart Nominee. Among many other publications, Anne and her work have been showcased in the Texas Senate Newsletter, Langdon Review of the Arts in Texas, the San Antonio Express News, Pineywoods Live Arts Magazine, County Line Arts & Entertainment Magazine, Humanities Texas and Voices Israel.
Anne's poetry has been used for worship, funerals and community events, and in 2015, Anne's poetry found a new outlet in musical performance. Selections from Letting Myself In have been set to music as artsong by University of Texas at Tyler performance music professor Dr. Kyle Gullings and performed by professor and vocalist Dr. Sooah Park. The song cycle has been performed in other university settings and is available for performance. Anne is now collaborating with Dr. Gullings on a libretto for operatic performance.
Besides writing poetry, Anne also enjoys leading poetry workshops and classes. Interactive and inspiring, Anne's uplifting and insightful programs are popular with writing conference participants, poetry critique groups, writing circles, educational conferences, churches, schools and libraries. One of her workshop sessions, "Speaking the Unspoken" is detailed in the instructional anthology, Wingbeats - Exercises & Practice in Poetry, published by Dos Gatos Press. Anne has spoken at Baylor University's House of Poetry, University of Mary Hardin Baylor's Writers Conference, Austin International Poetry Festival, the Georgetown Poetry Festival, Waco's WordFest, Tarleton's Langdon Review Weekend, Fort Worth's Wildcatter Exchange and other literary events.
Anne was a cofounder of and InSpiritry was producer of an online podcast called the Texas Poets Podcast. In conjunction with TCU Press, the program offered interviews which featured audio conversations with noted Texas poets discussing one of their favorite poems by another Texas poet. For the podcast's success, InSpiritry was awarded the 2016 Outstanding Spoken Word Broadcast Program at the Texas Spoken Word Awards Gala.
For the past fifteen years, Anne has cosponsored, judged and hosted the very successful Poetry in Schools Contest for East Texas students grades 1-12, first through the Rusk County Poetry Society and now in partnership with Young Audiences of Northeast Texas, County Line Magazine and Region VII ESC. She serves as a councilor for the Poetry Society of Texas and is a popular presenter for literary and community groups, as well as a frequent contest judge and critic. Anne offers online poetry lessons and resources at InSpiritry. As a way to encourage other poets, Anne promotes and supports the Texas poetry community, as well as poetry in education. She created and contributes to the Texas Poetry Events FaceBook Page.
As the founder and CEO of InSpiritry Publishers, Anne has published three peace anthology chapbooks, Peace Words, Hunger for Peace and Intertwined, as part of Art of Peace - Tyler, TX, a week-long, arts-based peace celebration Anne co-founded and co-directs each September.

As comfortable with narrative as she is poetry, Anne spent many years as a profressional storyteller and has authored many of the stories she shares in her presentations. One of those stories, a simple, thought-provoking peace parable with included questions for discussion, Kevin and the Seven Prayers, is available as a small giftbook from InSpiritry Publishers. Two of her inspirational true stories appear in Cup of Comport for Single Mothers and Cup of Comfort for a Better World. She continues to write and share her stories on page and stage.
In addition to the publications mentioned, Anne's commentary and letters to the editor have appeared in major newspapers, magazines, newsletters and online sites, as well as on National Public Radio, Frontline, Fox News Radio and Air America.
Anne is a member of the Association of Writers & Writing Programs, Academy of American Poets, the National Federation of State Poetry Societies, the Society of Children's Book Writers and Illustrators, the Poetry Society of Texas, the Writers League of Texas, the American Society of Composers, Authors and Publishers, the East Texas Writers Guild, the East Texas Writers Association, the Rusk County Poetry Society and the Rose Garden Poetry Society.
Anne's current writing projects include several new poetry collections, poetry recordings, narratives for oral storytelling, children's manuscripts, texts for worship, non-profit promotion, opera librettos, poems for Texas Poets Podcast, and continuing social media postings. She invites conversation and food for thought with her daily writing prompt, the InSpiritry Question for the Day on FaceBook and posts on Poet with a Press Pass, Twitter and LinkenIn, uplifting posts on her InSpiritry blog and encouragements through her Minute of InSpiritry podcasts at SoundCloud.
Shop Anne McCrady's Amazon Author Page
Anne's Literary Honors and Appearances
1996-2011 Rusk County Poetry Society Annual Awards Winner
1997-2009 Poetry Society of Texas Annual Awards Winner
2004 - 2007 National Federation of State Poetry Annual Award Winner
2002 Rusk County Poet of the Year
2004 Poetry Society of Texas Edwin M. Eakin Manuscript Publication Award
2005 National Federation of State Poetry Societies Founders Award

2007 Pudding House Innovative Writers Poetry Chapbook Prize

2007 -2009 UMHB Writers Festival Featured Poet & Presenter
2008 Austin International Poetry Festival Di-verse-city Anthology Guest Editor
2008-2013 Tarleton State University Weekend at Langdon Presenter
2009 Art of Peace Festival Featured Poet & Storyteller
2009 Angelo State Literary Festival Featured Poet

2010 Baylor University House of Poetry Workshop Presenter

2010 Austin International Poetry Festival Invited Guest Poet
2010 Art of Peace Festival - Belton Featured Poet
2011 Baylor University House of Poetry Workshop Presenter
2011 Burning Bush Poetry Prize
2011 East Texas Fall Festival of Poetry Workshop Presenter
2012 Museum of Fine Art Houston Exhibit Poet

2013 Waco Cultural Arts Fest Wordfest Featured Poet & Panelist
2013 Georgetown Poetry Festival Featured Poet & Workshop Presenter
2014 Baylor University House of Poetry Guest Lecturer
2014 Northeast Texas Poetry in Schools Awards Ceremony Emcee
2014 Lucidity Poetry Retreat Feature Poet & Speaker
2015 University of Texas at Tyler World Premier of Anne's Poems as Song Cycle
2015 Wildcatter Exchange Arts Festival Feature Panelist
2015 Tyler Museum of Art Literary Program Speaker
2015 Emcee for Her Texas Reading - Longview Museum of Art
2015 Waco Cultural Arts Fest WordFest Workshop Presenter
2015 Georgetown Poetry Festival Workshop Presenter
2016 Lead Judge & Emcee for Northeast Texas Poetry in Schools Awards
2016 Outstanding Spoken Word Broadcast Program for Texas Poets Podcast
2016 Waco Cultural Arts Fest WordFest Workshop Presenter
2016 Georgetown Poetry Festival Featured Poet & Presenter

2017 Texas Night Sky Festival 1st Place Poem