News
Story: Dressed for Success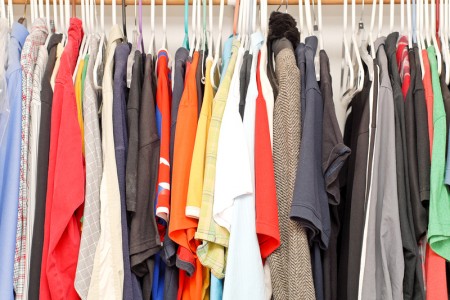 Fall, with its colorful scenery, bright days and cool nights, is good time for starting something new: a school semester, an artistic passion, a job. That was on the mind of a woman who left work early to visit resale shops, looking for bargains. It was a good time for her family. One of her children was starting college. Another had just gotten a great new job. Her oldest daughter was a new mother. As she browsed the aisles of gently used clothing and household items, she was feeling grateful for these new opportunities for her family.
At the end of the men's clothing aisle, she noticed a scruffy young man looking through the racks of clothes. He looked at one shirt, then seemed uncertain and chose another one. As she approached, he held up a plaid shirt and a pair of slacks. She was surprised when he looked helplessly at her and asked, "Do these go together?" The woman laughed, "No, not really!" His rumpled appearance reminded her of so many teenagers she had befriended in her small town, boys who just needed a little guidance and attention.
Smiling, she said, "What kind of event is this for?" As she helped the young man choose a matching outfit, he told her his story. He had dropped out of high school and been out of work a while. He had been staying at the nearby Salvation Army center after he lost his apartment. He said he was finally getting a chance to apply for a job the next day, and that a local community group has given him a voucher for clothes for his interview. The woman took on her familiar mother role and had him try on pants and shirts until she was satisfied.
After they had agreed on his selections, they walked together toward the counter. The woman noticed his worn out tennis shoes. She stopped him and asked, "What about shoes and a belt and tie?" The young man dropped his head, "No, my voucher won't cover that." Thinking of her own children the woman was overwhelmed with compassion. Cheerfully, she led him back to the men's department to pick out a pair of dress shoes, a leather belt and a navy tie.
At the counter, they put his voucher and her cash together to pay for their purchases. As the cashier handed him his sack of clothes, the woman quietly pulled a ten dollar bill from her purse and pressed it into his hand. Smiling, she said, "Good luck tomorrow. Use this to get some lunch after your interview." He suddenly hugged her, then laughed. "I think I already got my good luck when I met you! And I promise once I get the job, I will think of you every day when I get dressed to go to work!"
Waving goodbye and getting into her car, she watched him walk happily back toward the Salvation Army center. Sitting for a moment, the woman said a prayer for the grateful young man...and for her own children...and for everyone who gets a chance to make a new start!
Thanks to Beca McKamie for this heart-warming story!